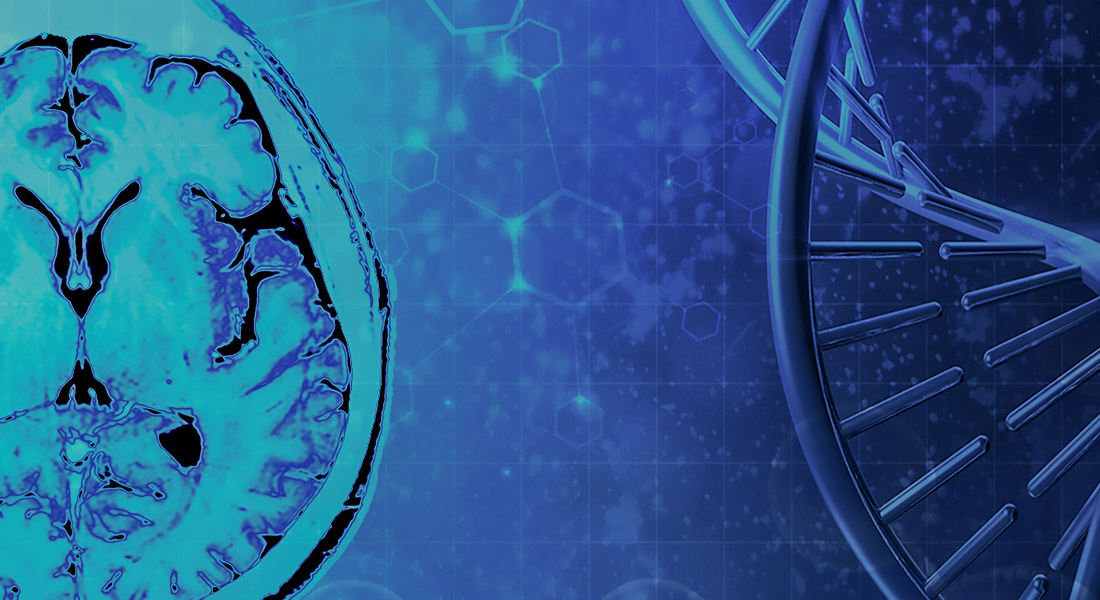 by Ulli Hain, NOVA Research Company/Lumina Corps
"A cross-disciplinary approach to research is essential to understand the complex heterogeneity of Alzheimer's and other related dementia (ADRD)," said Dr. Corey McMillan, a Penn Neurodegeneration Genomics Center (PNGC) faculty member and associate professor of Neurology.
The PNGC uses an interdisciplinary and collaborative approach to studying the genetics of ADRD and training future researchers. High-throughput genotyping and sequencing technologies at the PNGC enable researchers to analyze tens of thousands of genomes and identify novel genes.
Studying ADRD Genetics. Integrating genomic data with neuroimaging — which allows scientists to noninvasively probe the structure and function of the brain — has been particularly powerful in ADRD research. Such crosstalk enables researchers to understand the effects of gene variants on the brain and to detect early signs of neurodegeneration before symptoms appear. This in turn can lead to more precise diagnostic biomarkers and drug targets, an important goal for ADRD research.
A large effort at Penn and 11 other research centers aims to accomplish this goal by using advanced artificial intelligence methods to integrate genetic, imaging, and clinical data from more than 60,000 Alzheimer's patients. Co-leading the project is Dr. Christos Davatzikos, a PNGC faculty member, professor of Radiology, and director of the Center for Biomedical Image Computing and Analytics. The National Institute on Aging (NIA)-funded project is using data from the Alzheimer's Disease Sequencing Project, a multi-site effort being led at Penn by PNGC Directors Drs. Gerard Schellenberg and Li-San Wang.
This work builds on Penn's longstanding tradition of innovation in ADRD neuroimaging. For example, the first measurements of cerebral blood flow in humans were carried out here in the 1940s. More recently, a Penn trainee developed the florbetapir positron emission tomography (PET) tracer that detects beta-amyloid deposits in the brain (a hallmark of AD pathology). The discovery was a game changer in the field and led to formation of a Penn-licensed start-up company.
Preparing Future Researchers. A 2021 paper speaks to the importance of training tomorrow's ADRD researchers. In a study led by Dr. Katerina Placek, then a graduate student in Dr. McMillan's lab, PNGC researchers identified a polygenic risk score for frontotemporal dementia (FTD) and amyotrophic lateral sclerosis (ALS) and used magnetic resonance imaging (MRI) to link the score to degeneration of the cerebral cortex.
"Not only is the ADRD workforce understaffed, there is a massive lack of representation," said Dr. McMillan. "We hope to help improve that." This month, Penn launched a translational neuroimaging in ADRD training program, led by Drs. McMillan, John Detre, and Murray Grossman, and funded by the NIA.
"I'm excited about this specialized training structure because it uniquely brings together typically disparate fields," said Dr. McMillan. "Often engineering students lack knowledge on the genetics and biology of dementias and neuroscience students lack the technical skills to use neuroimaging."
The cross-disciplinary fellowship will leverage the wealth of resources of the Penn Alzheimer's Disease Research Center and Frontotemporal Degeneration Center. Several PNGC faculty members, including Drs. Davatzikos, Wang, Mingyao Li, and Vivianna Van Deerlin, will take part in the program as faculty trainers.
"It is incredible what we can accomplish when we bring together the energy and innovative ideas of trainees with the expertise and resources of leading ADRD researchers at Penn," said Dr. Wang. "By training the next generation of cross-disciplinary scientists, we ensure continued strides in improving the lives of people living with dementia."