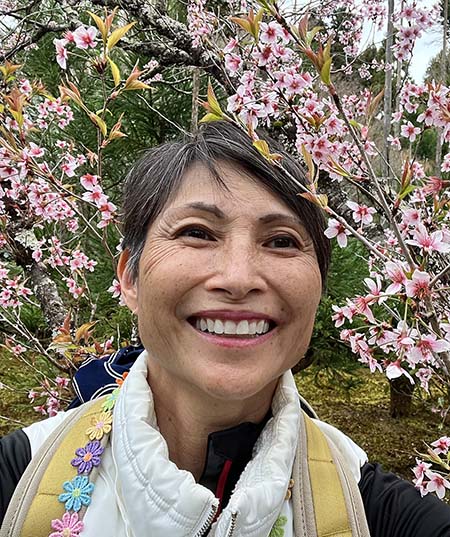 In high school, Tiffany Chow was granted early admission to the accelerated Wharton School of Business MBA program. She discovered, however, that the ethics and humanity of Medicine would be a more compelling draw. Now, she's coming full circle back to Penn as a new Professor of Pathology and Laboratory Medicine in the Associated Faculty, Adjunct Track, associated with her work for the Asian Cohort for Alzheimer's Disease Study (ACAD).
Tiffany got her Bachelor of Arts and Science in German Studies and Biology at Stanford University, then stayed on to earn a Master's degree in Marine Biology (neuroscientists may recall that early neuronal activation studies used the sea hare and other nudibranchs). She received her medical degree from Rush University, then had her neurology residency at UC San Diego and a fellowship in Dementia and Behavioral Neuroscience at UCLA.
During her time at UCLA, she noted that there were many other Asian Americans on the campus as students and faculty, but no one appearing in the Memory Clinic or at the Alzheimer's Clinical Trial program was Asian. In the late 1990s, she began to work on outreach to Asian American communities with the local Alzheimer's Association. Here she learned about the difficult balance between the stigmatization of dementia and the hopes of aging immigrants to not burden their children with Alzheimer's disease.
Taking Her Own Advice
As described in her book, The Memory Clinic, Tiffany realized that her grandmother's hemorrhagic stroke was probably one of the unusual consequences of Alzheimer's disease.
"I realized that I should follow my own professional advice to others about avoiding Alzheimer's! They say that 'Doctors make the worst patients'. Maybe those of us who don't work on preventive measures when we have risks are the worst of the worst!"
She has kept a closer eye on lifestyle risk factors ever since she completed her fellowship. She surfs almost daily along with enjoying long hikes through old-growth forests when she can. She attends to a diet closer to the Mediterranean Diet guideline and is constantly building cognitive reserve. She likes to do "crash" conversational language courses before traveling to other countries, is an avid reader (lately binging on classic science fiction), and says her role as a Clinical Core Lead for ACAD is an exceptional cognitive challenger.
"Penn has a treasure in Li-San Wang, who lured me into contributing to the compilation of ACAD's clinical evaluations of Asian Americans and Canadians (ASAC) who have or are worried that they have dementia. Li-San is a consummate leader, and it's an honor to be working with giants in the Alzheimer's field. We have built off the best practices developed by team members and will continue to iterate as we learn what works best for ASAC. I especially like ACAD's attention to bringing junior faculty along. As ACAD grows, I will feel gratified to have the up-and-coming talent take the reins. I've collaborated with geneticists in the past, but to be able to directly address the health equity issues for ASAC feels like the culmination of a career-long pursuit."
What's Special About ACAD?
Until ACAD, never before has genomics research in AD had the infrastructure to bring together collaborators with experience in underserved community outreach and pre-existing community-based networks among Chinese, Korean, and Vietnamese populations. Tiffany's 12 years as a Senior Scientist at the Rotman Research Institute within the University of Toronto made her especially keen to include the University of Toronto and the University of British Columbia.
The ACAD team has worked together closely over the past five years, initially with almost no support, to develop a study design that is both feasible and scientifically rigorous. So far, some ingredients in the study's recipe for success include the use of established protocols and best practices to leverage existing partnerships and infrastructure and the deployment of site-specific recruitment strategies (there are nine sites across two countries) that maximize economy of scale.
"Working so closely with the National Alzheimer's Coordinating Center, national NIA-funded Alzheimer's Disease Research Centers, the Taub Institute for Research on Alzheimer's Disease, and the Aging Brain at Columbia University has developed organically after so many lesser formal collaborations. It's such a pleasure to parlay those relationships into advancing what we can learn about Alzheimer's disease among Asian populations, especially since ACAD also has plans to collaborate outside of the US and Canada."
Tiffany is particularly interested in the idiosyncrasies of the Asian population concerning the diagnosis and prognosis of Alzheimer's Disease. Her grandmother's symptoms before the stroke had been subtle enough that Tiffany's grandfather seemed to be able to cover for her easily. Does that mean that Chinese Americans might manifest Alzheimer's disease differently than people of European descent? One of the most promising areas of Alzheimer's research is blood-based biomarkers, but clinicians need to know if the Asian population will have different normative ranges and cutoff points to indicate dementia or AD. Answering this question is one of ACAD's primary aims.
There's also a unique opportunity to compare the ACAD data and data from studies in Asia, as a natural experiment where genetic background is comparable but lifestyle, diet, and environmental exposure are very different. ACAD data should afford better characterization of the course of AD within Asians, which is important for designing inclusive clinical trials.

Tiffany and Li-San at the 2023 Alzheimer's Association International Conference

You can learn more about Tiffany's work and research on LinkedIn and her blog for caregivers